Presentations


Cal combines his award winning shipwreck photographs with dynamic, audience engaging storytelling, to educate and inform about the amazing shipwrecks he has visited.

Cal has presented and delivered keynote speeches at the Wisconsin Maritime Museum, Lake Huron Coastal Conservation Convention (Ontario, CA), GLSRF's Ghostships Conference, Great Lakes Shipwreck Festival (Canton, Michigan), Milwaukee's North Point Lighthouse, Wisconsin Marine Historical Society galas, yacht clubs, nursing homes, even dive clubs meetings! No matter if it's ten people or two hundred, your audience will be spellbound from the very first minute until the end.

Cal's shows are a visual odyssey, utilizing hundreds of his world renown shipwreck images, maps, and archival images from his more than twenty year dive career, with a healthy dose of humor sprinkled in to keep things light. Presentations typically run about 45 minutes with Q&A sessions afterwards. Event organizers can expect larger than normal turnouts as his talks have routinely drawn record crowds. Past sponsors have touted his shows as fascinating, and his natural, storytelling style of speaking is reminiscent of sitting around with an old friend listening to tales of their latest adventure.

A digital projector and screen are required of the venue. If you have a microphone system great, otherwise for small to medium sized venues he can vocalize enough to not need a mic/PA.

Promotional images and copy will be provided to aid in your advertising efforts.

Cal Is based in the Milwaukee, WI area, and is available for presentations virtually any evening of the week. In town (Milwaukee, Waukesha, Racine counties) rate is $250 for one hour. Out of town rates vary based on distance, please contact him regarding availability and other requirements.




Available presentations:


Frozen In Time: The W.C. Kimball story.
In 2018 the most intact 19th century schooner in the world, was found hiding under 300 feet of icy Lake Michigan water. This is the story of how it was found, the team of historians who identified her, and the forensic clues that led them to what they think the doomed vessel and crew's final hours were like.

Actual video and photos of the shipwreck help weave a tale of loss and mystery. Appropriate for any audience interested in shipwrecks, maritime history, Great Lakes adventure.
Shooting Shipwrecks: The stories behind the photos.
Cal uses dozens of his world famous shipwreck images to tell stories of high seas adventure, danger, and the drama he has experienced over more than a decade of searching out and photographing some of the world's most haunting shipwrecks. He discusses how he got into diving, the type of equipment needed to dive 200 feet down in the cold, dark, icy waters of the Great Lakes, and the camera gear he shoots with.
Appropriate for any audience interested in shipwrecks, maritime history, diving, photography, and high seas adventure!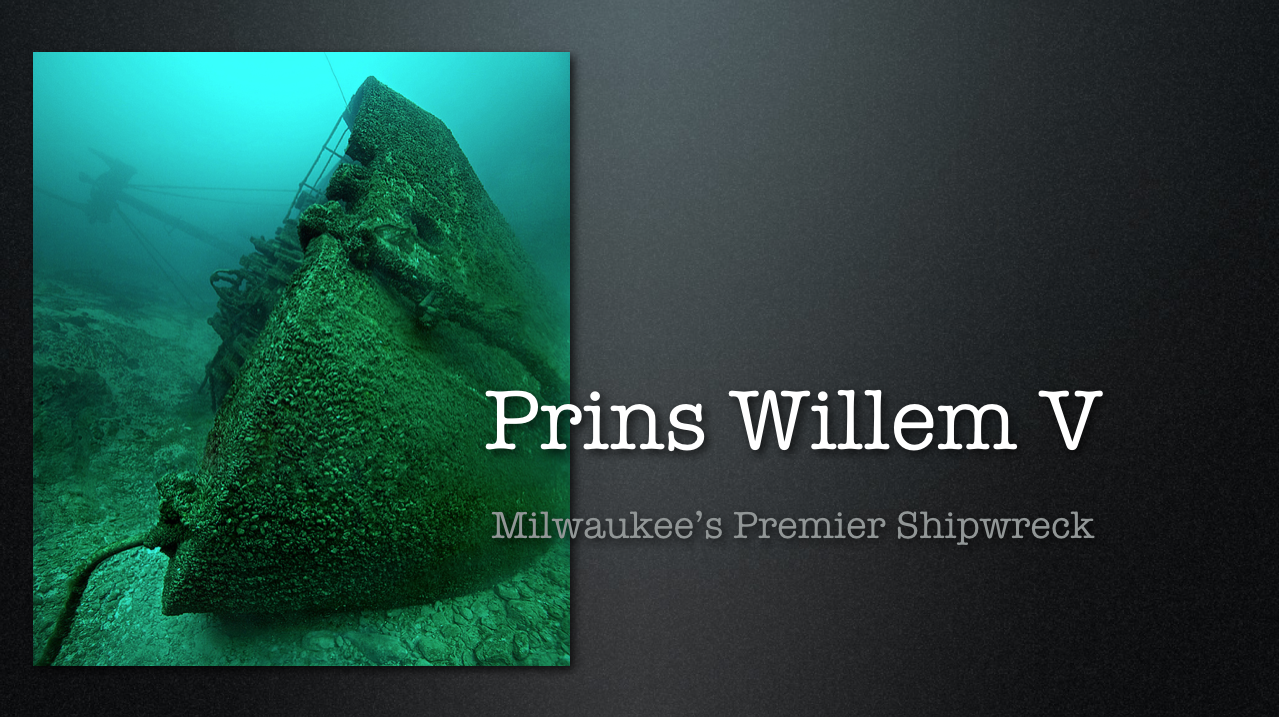 Prins Willem V: Milwaukee's premiere wreck.
A detailed look at a modern steel freighter that sank in 1954 just minutes after leaving Milwaukee. This was the second time this vessel had found it's way to the bottom, and despite the best efforts of many to raise it from the depths, including diving legend Max Nohl, it would stay there. It is now a favorite among wreck divers, and possibly the most dived wreck in all the Great Lakes.
Appropriate for any audience interested in shipwrecks, maritime history, diving, photography, and Wisconsin water history.
Florida Keys Shipwrecks: A wreck photographer's study guide
A detailed look at the shipwrecks that are the Florida Key's 'Wreck Trek'. Begun in 2010, nine shipwrecks scattered from Key Largo in the north to Key West in the south make up a string of beloved dive sites. Knowing which ones to hit, and which ones to miss, as well as the best aspects of each, is essential for the underwater photographer. This presentation sorts it all out in an orderly and descriptive manner.
Appropriate for any audience interested in the shipwrecks of the Florida Keys.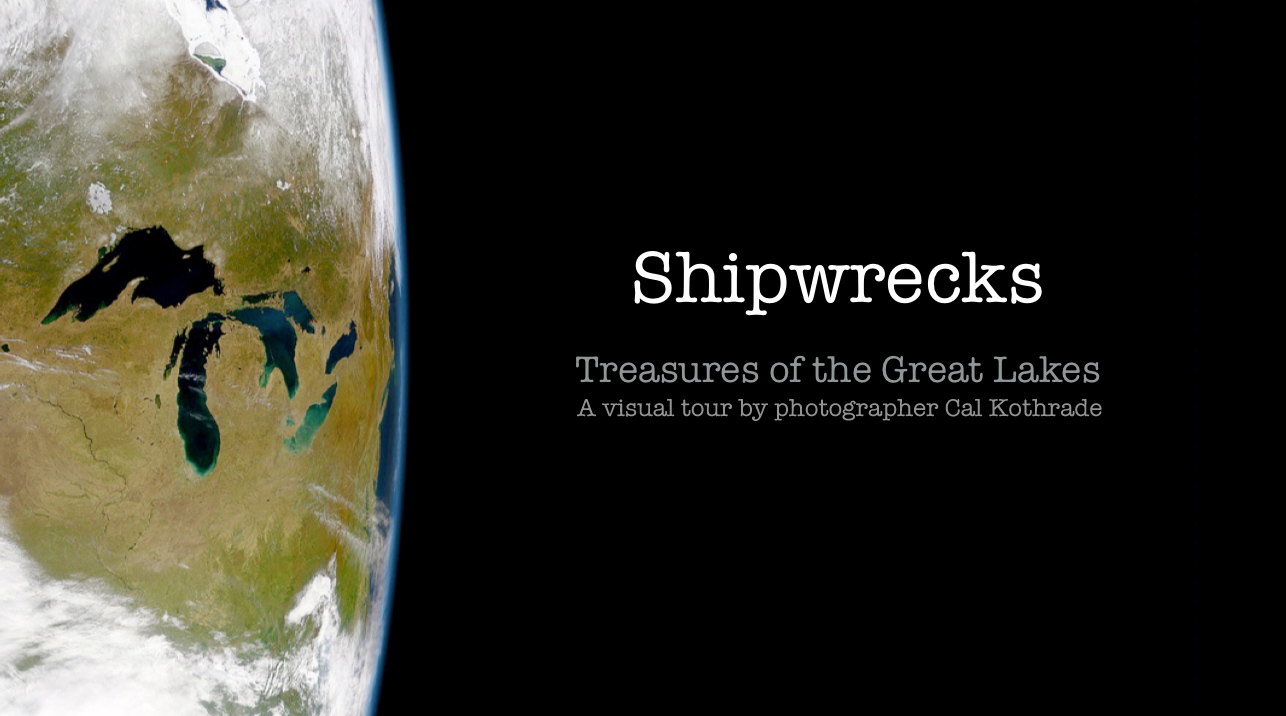 Shipwrecks: Treasures of the Great Lakes
An introduction to Great Lakes Shipwrecks, how and why there are so many, as well as an in depth look at ten of the most incredible shipwrecks in North America. This presentation has been updated to include new finds.
Due to Covid 19, many in person talks have been rescheduled for fall of 2020. This new presentation was broadcast live via Zoom and FaceBook on April 28th, 2020 for Door County Library System of Wisconsin, and hosted by Wisconsin Marine Historical Society. Watch the recording on YouTube for free here: Watch the one hour show!